---
Valley of Fire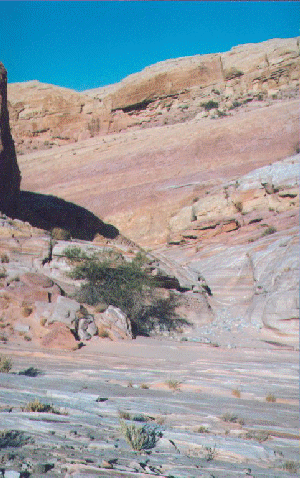 Located off the Lake Mead North Shore Road (N-169) near the city of Overton. The Valley of Fire is a geologic wonderland. Operated by the State of Nevada, the park is only 6 miles long by 4 miles wide. This was the States first State Park. The Valley of Fire was created by shifting sand dunes about 150 million years ago that were buried and compacted. Over the years, the dunes turned to sandstone. Geologic up thrusting and faults once again raised the sandstone. Exposed to the elements, time and erosion chiseled away at these rocks and created these unique sandstone formations and colors. The entire park is very picturesque and colorful.
They are primarily red in color, due to the iron content in the sandstone. The rocks have different colors in them because of the trace minerals that are in them. There is region called Rainbow Vistas that has rock formations that are vivid colors. White, purple, yellow, green, red, orange and pink rock formations were created by the different minerals that saturated the sandstone. The Rainbow Vista region of the park is filled with different colors as you can see in the picture to your left. Iron, copper, and other trace elements, along with the shifting sand created these swirling colors in the rock. The holes and small caves in the rocks are a result of wind, rain and time weathering away at the once mountains.
If you like camping and hiking, there are several overnight camp grounds within the park, and there are many miles of well marked trails. You can pick up a guide at the Visitors Center. A very popular hike is the trail through Petroglyph Canyon and Mouse's Tank. There are little provisions within the Park itself and the temperature can be quite extreme, so be sure to bring enough provisions for yourself. It is also very wise to hike with a companion and let the ranger or Visitors Center know if you are going into a rarely traveled area. This gives you added protection, just in case something goes wrong.
For more information contact:
Division of State Parks
Capitol Complex
Carson City, NV 89710
Panorama of Vally Of Fire.