---
Mouse's Tank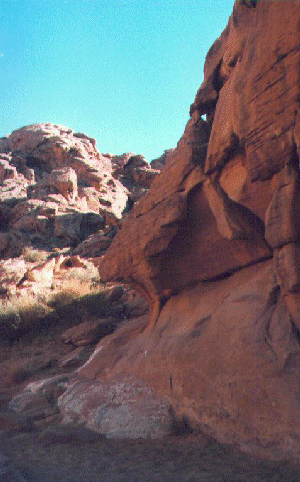 This quarter mile hike, known as Petroglyph Canyon, is wonderful trail that puts you face to face with some of the most elaborate petroglyphs in the Valley of Fire. At the end of this walk there is a crag between two huge boulders that separates the adjacent canyon. In this crag is Mouse's tank.
The tank itself is a natural basin located on the edge of a cliff at one canyon and one the floor of another. Between the two boulders are two small pools of water that collects during rain storms. The runoff cascades over the cliff. The water stays here most of the year, which maybe why there are so many carvings by the ancients along this walk.
So how did this place get it's name, you ask? Well after Mouse, of course. Not the cheese eating type. Mouse was a reclusive Paiute aborigine who lived in the area in the 1890's. Like so many stories of the wild west, no one is sure what he actually did, but he was branded an outlaw. There were so many rumors of his alleged crimes, that he chose this area as his hideout. He was eventually gunned down near this spot in July of 1897.
As you walk this trail, take time to look at the rock formations. There are several caves and rock depressions that you can view and enter. They are beautiful in their own right, but if you look carefully, you will probably spot several petroglyphs. Please do not disrupt these sacred carvings. They can not be replaced.