---
Zion National Park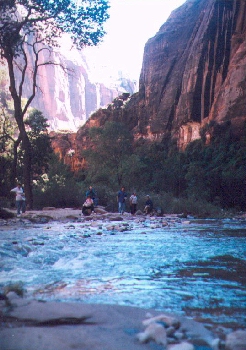 The rugged, natural beauty of the 3,000 foot cliffs as you enter Zion National Park are a result of millions of years of geologic deposition and weathering. Zion Canyon was carved out of the Plateau above the canyon. This is a result of wind, sand and the snow pack melting to form streams and the Virgin River.

Much of the water from the plateau actually purculates through the cliffs and appears as springs or the unusual Weeping Rock. From this cliff face a thin curtain of water trickles over a natural protected ledge where you can enjoy a sceenic vista of the surrounding mountains and canyons.
Panorama of Zion National Park.



Panorama of Virgin River Narrows.

---
Getting There-
Las Vegas to Zion National Park


Take I-15 north through Mesquite, Arizona and St. George, Utah. Exit on Utah State Route 9. Head east on State Route 9 and follow the signs into Zion National Park.
---
Return to: