---
Bryce Canyon National Park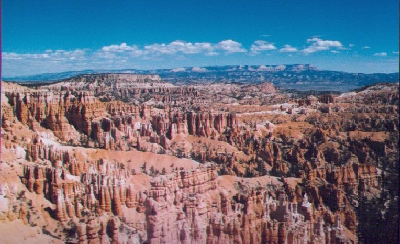 Well Bryce is a very sacred place to the Piaute Indians and there name for it means "red rocks standing like men in a bowl." Maybe not very poetic, but accurate. However, the canyon was named after Ebenezer Bryce who homesteaded the head of the canyon in 1876. He referred to Bryce Canyon as, "a hell of a place to lose a cow." Which goes to show that one man's heaven is another man's hell. But what is Bryce Canyon, anyway?

About 145 million years ago, (Cretaceous Period, for those who like geologic jargon) there was a great shallow seaway that ran from northern Canada to the Gulf of Mexico. This seaway would fill with deposits from the eroding land on either side of the seaway. Due to other geologic factors and climatic conditions the seaway would retreat and also invade the area, leaving several layers of deposition. The seaway eventually filled in. Then about 63 million years ago (Tertiary Period, for you geologic geeks!) the area became a landlocked lake, which brought debris from the surrounding land masses via streams and rivers. This continued the deposition or sedimentation of the area. After all the depositing, the land was up lifted, in the same process that created the Rocky Mountains, and the area became known as the Colorado Plateau. Once this area was lifted higher than the surrounding area, it could no longer get the deposits from the land and became the subject of erosion. It is this erosional processes in the uplifted depositional form that created the unusual spires, towers, curtains and fins that form Bryce Canyon. These spires, and towers are called Hoodoos. Bryce Canyon is the leading edge of the erosion of that particular group of rocks.

You can look over the rim of the canyon and see the beauty and the majesty that the Piautes saw, or you can hike with friends through the maze of hoodoos and fins, and possibly loose someone along the way, and feel the same way Ebenezer Bryce did. Either way the area is captivating.